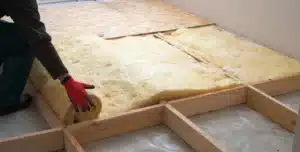 Though you may want to spend your September soaking in the last remaining summer rays, it may be wise to prepare for the upcoming colder days ahead. One of the best ways to keep your home warmer in the fall and winter is to properly insulate your roof space and attic. Both are easy to neglect since they're often far removed from the rest of your home. However, there are many benefits to insulating your home and also many factors to consider if you're planning to do it yourself. Here we've compiled a guide on what to think about before you tackle your attic insulation.
The Pros of Attic Insulation
Insulation should help to better regulate your home's internal temperatures by preventing the flow of air in and out of your home. That prevents hot air from being trapped inside during summer days and cold air from coming in during the fall and winter. Not only will this make the rest of your home more refreshing, this allows your heating system to work more efficiently. According to the Department of Energy, you could save up between 10 to 50% on your heating bill just by taking this step.
Insulation indoors also spells benefits for the outside of your home – namely, the roof. Ice dams, which form when snow that collects on your roof melts and then refreezes at the edges of your roof, can cause major damage to your home's infrastructure. It traps moisture underneath your shingles, weakening it and making it more susceptible to damage. One way good insulation prevents ice dams is that it keeps the hot air inside the attic from reaching the underbelly of the roof and creating an ideal situation for it to melt the snow above it. This can prolong the life of your roof.
Now that we've hopefully reassured you of the importance of insulation, let's move onto the factors you should consider for your attic insulation installation.
Loose-Fill or Batt?
Loose-fill, as the name suggests, often consists of fiberglass or cellulose that is loose but then blown into attic cavities. As a result, it works best in attics that have tedious nooks and crannies to navigate or pre-existing insulation. As compared to batt and roll insulation, where sheets of pre-made fiberglass are unwound and then cut to fill an attic cavity, loose-fill insulation tends to be a bit more affordable but slightly harder to self-install. Please keep in mind that both may cause skin irritation, so proper protection should always be worn. Protective gear should include a respiratory mask, goggles, and clothing that leaves no exposed skin.
R-Value?
The R-value is a fancy term to determine how thick the insulation should be in your home. It varies based on your home's environment. For example, if you live somewhere warm, R-30 is recommended whereas in colder places, R-49 is. You can easily determine your R-value by visiting the Department of Energy's website.
State of Pre-Existing Insulation?
Most homes, especially older ones, tend to have some level of insulation already. However, as a rule of thumb, if you notice that insulation is squashed looking (and therefore, has a lower R-value), moldy, or water-stained, then it's time to remove and replace it. Insulation that's survived past its expiration date could be a breeding ground for unhealthy allergens and other airborne particles. If your current insulation is rather okay, measure how much is remaining to determine the amount of new insulation you should supplement it with.
Next Steps?
Insulation is an important part of your home especially as the days get colder. If you're looking to make your home more comfortable, energy efficient, and cost protective, then consider insulating your attic. If you want to save yourself the headache of all the fine details that go into making sure an attic is properly insulated, contact 
Bill's Roofing
. We have years of experience and can get the job done quickly and reliably at a reasonable price