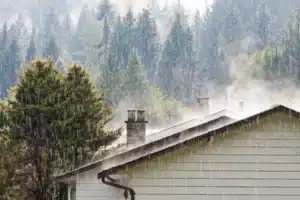 Bill's Roofing has been the proud residential roofing specialists in Western Washington for over thirty years, and we've seen firsthand how Washington's trademark rainy atmosphere can take a toll on roofing infrastructure. Our state is located underneath a 
jetstream
 which leads to our wet climate! Protecting your roof in the rain is crucial for roof and home health. We've compiled a list of tips to help your roof withstand the rain for years to come.
Inspect Your Roof Regularly
It's quite easy to take a "set it and forget it" mentality to our roofs, but if you aren't regularly inspecting and cleaning your roof, it can be accumulating damage that you only notice when it's much costlier and time-consuming to fix. Depending on the material for your roof, there are different maintenance recommendations.
If you have a metal tile roof, make sure to inspect your roof at least two to three times a year, or after a major event, such as a hurricane. You should look for missing tiles, flashing, or breakdown in the vertices.
Similarly, for wood roofs, which are even more susceptible to water damage, do regular maintenance on your roof. If you want to prevent water seepage, we recommend treating your wood. You can fill in the cracks with putty and cover with water resistant varnish. We recommend asking a professional roofing expert to do this water treatment step since it may help keep your roof looking fresher for much longer when properly done and will also save you the difficult DIY time.
As a tip, if you are installing more layers of shingle over worn down patches, it may actually be doing more harm than good. The amount of weight above can be wearing down the foundation underneath and shortening the lifespan of your entire roof. Ask a roofing specialist to weigh the pros and cons of a new installation versus a repair.
Keep Your Gutters Clear
This seems like common sense but in rainier climates like Washington, your home's gutter system gets put under greater daily stress. If they aren't cleaned regularly of debris, your gutters will clog and your downspouts won't properly divert water away from your home. This will end up creating unnecessary (and potentially problematic) sagging weight on your home's foundations. Furthermore, as we enter the colder seasons, this water could end up freezing in your gutters or between the tiles of your roof and lead to cracks and unwanted leaks.
Consider Replacing Your Gutters
If your gutters are clear but are still draining rather slowly, it may be due to several factors. The slope that they are positioned on may not be steep enough and should be raised. If you are noticing rust or large patches of worn away paint on your gutters, it may be a sign that age has gotten to your gutters and that they need to be replaced with new ones.
Rinse Your Roof
Giving your roof a rinse when nature seems to do so much of that already may seem questionable, but in climates where the mixture of heat and moisture combine to create ideal environments for algae growth, your roof may be a hotbed for moss blooms. This may trap water underneath your tiles and speed up the rate of rotting. That's why we recommend cleaning your roof regularly.
If the moss seems persistent even after you clean it away, use a nontoxic moss removal product that uses potassium salts (rather than zinc sulfate) to apply directly to the areas where moss is prevalent. This should prevent future growth. We recommend inspecting your roof at the end of every season so your home is properly kept for years to come. As always, your safety should come first so please take great caution when deciding to inspect or maintain your roof yourself as it may be very slippery and dangerous.
Professional roofers can help you adequately protect your roof in the rain. Bill's Roofing has a reputation for high quality and reliable services at an affordable and honest price. Contact us today or 
visit us online
!